Date:November 8th, 2014
Place:Tegucigalpa, Honduras
Organizer:Contact Nestor Cubas Alvarado
The 6th Honduras National Championship was the largest event of full contact karate to this date. All participants (79 in both kata and kumite) fought fairly and with great energy.
From children of 5 years old to adults competed in the new national ranking system, and the event was covered by the media, the government state TV and two private television networks as well as for a national range newspaper.
The opening ceremony was conducted by Contact Nestor Cubas Alvarado who welcomed the competitors and the audience. The Ambassador of Japan to Honduras, Kenji Okada who attended with his embassy Economic Analyst, gave a warm inaugural speech in which he resumed the friendly relations of Honduras and Japan in both cultural and diplomatic matters, and incited the Honduran karateka to do their best and declared the event an success after seeing all bouts.
The National Male and Female Ranking category where dominated by Felipe Mendoza and Greissy Molina once again, defending their titles for 3rd consecutive year.
In the prize ceremony, all prize winners were given their medals by Ambassador Okada himself.
With this event Honduras Branch finished the competitive agenda of 2014 and starts preparing for the busy 2015 which will start from next March with the National Cup in weight categories.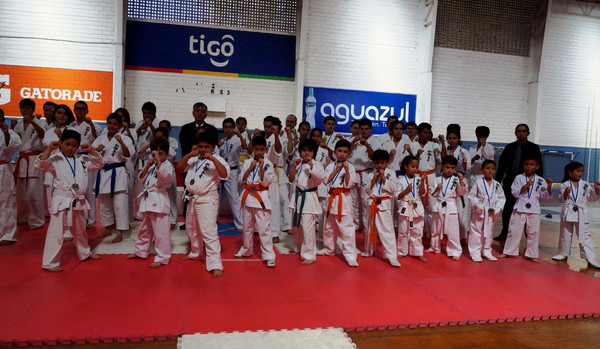 Prize Winners

Kata Adults
1. Greissy Molina
2. Felipe Mendoza
3. Daniel Moreno
3. Ronnal Hernandez
Kata Children
1. Nathalie Sierra
2. Ivanna Tejeda
3. Ricardo Ortiz
3. Samantha Flores
Kids Male Lightweight
1. Javier Molina
2. Santiago Hernandez
3. Joshua Zuniga
Kids Male Middleweight
1. Franco Herrera
2. Gabriel Rivera
3. Oscar Flores
Kids Male Heavyweight
1. Fernando Hernandez Villalta
2. Samuel Gomez Gaitan
3. Diego del Cid
Kids Female 7-8 years
1. Marcela Molina
2. Daniela Castillo
Kids Female 9-11
1. Samantha Flores
2. Ivanna Tejeda
3. Andrea Melendez
Youth Male
1. Cristian Cruz
2. Isaac Lainez
3. Joel Reyes
Male Adults Open
1. Carlos Ortiz
2. Bayron Vazquez
3. Edward Espinal
Male Adults National Ranking
1. Felipe Mendoza
2. Ronnal Hernandez
3. Luis Pedro Bueso
Female National Ranking
1. Greissy Molina Lara
2. Ana Izaguirre
3. Reina Montoya