Message from WKO President (May 2021)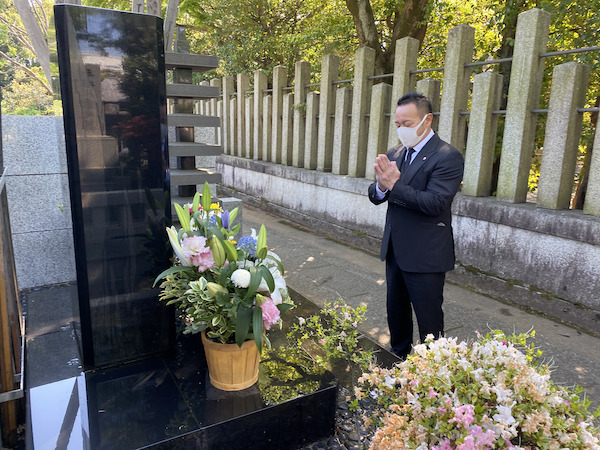 Message from WKO President (May 2021)Dear Branch Chiefs and Contacts,
Thank you for your continuous support towards the further development of WKO. In Japan, the cherry blossom season has passed, and we are enjoying the fresh green leaves of May. In relation to the infection prevention measures in this prolonged COVID-19 crisis, I would like to express my sincere appreciation towards the medical staff and the essential workers that support our social lives for their efforts. It is also important for us to continue infection prevention measures at the personal level in our social lives, so that we can minimize our infection risk and the work burden of the medical staff and essential workers.
April 26 was the anniversary of the death of Sosai Oyama. At the Gokokuji Temple, where Sosai rests, there was a pleasant breeze, and in the warm spring weather with clear blue skies, I closed my eyes in silent prayer, while remembering Sosai's gentle smile when he was still with us. After breathing out deeply, with a peaceful mindset, I reported to Sosai, the current situation surrounding the comrades in the world who are united by Kyokushin Karate, which was founded by Sosai, and I expressed our appreciation towards him. I also noticed the holding of various events worldwide to remember Sosai Oyama, and the fact that he keeps living in our hearts, made me renew my feeling of respect towards Sosai and his greatness.
I am glad to see the active organizing of events worldwide based on effective preventive measures during this period to coexist with COVID-19. Especially the tournaments that are being held without spectators. In our lifetime training, it is important to set goals, and for practitioners, competitions are absolutely necessary. Let us always remember to express our appreciation towards the volunteer staff who support such tournaments, which need to be prepared in an appropriate manner, so that the competitors can feel safe during their participation in the event. Competitions without spectators, will require the competitors to face their inner selves more than normal tournaments. This is also related to the trainings to prepare for the competition, and the result of trainings during the COVID-19 crisis, is significantly influenced by self-discipline and individual effort. It is the execution of our dojo oath, that with true vigour, we will seek to cultivate a spirit of self-denial. Even in the hardest times, it is important to see it as a part of training, and a learning experience. Let us continue our movement forward with a positive mind so that we can overcome such challenges.
As WKO, we had initially planned to hold the World Championship in Weight Categories this June, but due to the COVID-19 crisis and the necessary safety measures, we needed to postpone the tournament to next year. We understand the extra work that is being shouldered by WKO Poland, the organizer of the tournament, led by Country Representative Remigiusz Karpinski, and I wish to express my appreciation towards the related members, and their efforts to coordinate with the related sectors and prepare for the event. In addition, the European Championship is scheduled to be held in Georgia this June. I believe that organizing a tournament in this period to coexist with COVID-19 will be a challenging task, but since it is an important activity that will lead to the World Championship in Weight Categories, I expect that WKO Georgia, the organizer of the event, led by Country Representative Irakli Dolaberidze, will do their best to carry out a successful tournament. I sincerely request for the Europe Region members to do what they can to support the host country.
Lastly, I believe that there will be a timing of closure for this COVID-19 crisis. I hope that we can use what we are learning now in our further development after the crisis. The Kyokushin spirit given to us by Sosai Oyama. Keep your head low, eyes high, mouth shut, and heart wide. Base yourself on filial piety and benefit others. In this COVID-19 crisis, let us return to this origin, and find the stability that exists in this instability. At this occasion of the anniversary of Sosai Oyama's death, I wanted to share such ideas and thoughts with our comrades around the world.
OSU
Kenji Midori
WKO President