In the capital Yerevan on 11.11.2012, in the sport-hall, situated at the address: Tsakh str. 18, there was hold 6th Open Championship of Shinkyokushin Karate Federation of Armenia, in which all the branches of the Federation from Vardenis, Hoktemberyan, Proshyan, Sevan and Yerevan, as well as the group from Javakhk took part.
Also Kyokushin other Federations with their participants were invited. The all participants of the competition were sportsmen of 6-24 years old in different weight categories, the total number of which was 88.
The chief referee and organizer of the competition was Armen Kspooyan , the central referee – Edgar Hambaryan, and lateral referees Sergo Kspoyan, Hovhannes Soghoyan, Poghos Chivchyan, Arevshat Khurshudyan.
All the sportsmen, gained from first to third prizes got medals, diplomas and cups.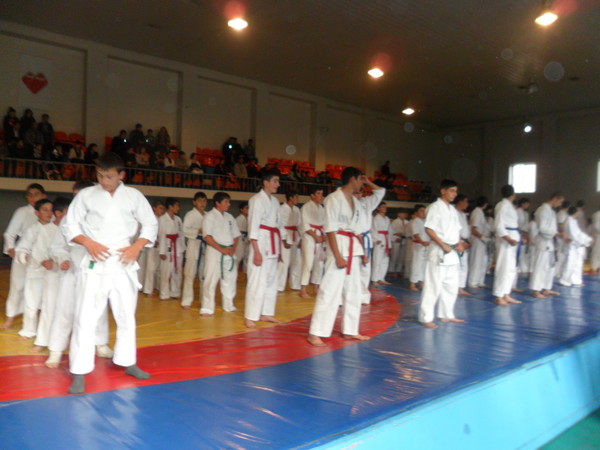 Result
6-7 years old – up to 25 kg
Goroyan Argisht – 1st prize
Miroyan Gor – 2nd prize
Hakobyan Adam – 3rd prize
6-7 years old – up to 30 kg
Kharatyan Petros – 1st prize
Boyakhchyan Arman – 2nd prize
Yengibaryan Armen – 3rd prize
8-9 years old – up to 30 kg
Gaprelyan Hamlet – 1st prize
Azatyan Rafik – 2nd prize
Avetisyan Aram – 3rd prize
8-9 years old – up to 35 kg
Karapetyan Hovhannes – 1st prize
Gulbekyan Valer – 2nd prize
Hovhannisyan Samvel – 3rd prize
8-9 years old – up to 40 kg
Minasyan Narek – 1st prize
Beglaryan Edgar – 2nd prize
Grigoryan Albert – 3rd prize
10-11 years old – up to 30 kg
Goroyan Simon – 1st prize
Chivchyan Sos – 2nd prize
Ayvazyan Artur – 3rd prize
10-11 years old – up to 35 kg
Khachatryan Suren – 1st prize
Khachatryan Vahagn – 2nd prize
Ghazaryan Spartak – 3rd prize
10-11 years old – up to 40 kg
Khachatryan Vardan – 1st prize
Kheloyan Karen – 2nd prize
Petrosyan Lavrent – 3rd prize
12-13 years old – up to 35 kg
Yeprikyan Artur – 1st prize
Grigoryan Gagik – 2nd prize
Antonyan Razmik – 3rd prize
12-13 years old – up to 40 kg
Karapetyan Hrach – 1st prize
Grigoryan Ara – 2nd prize
Antonyan Karen – 3rd prize
14-15 years old – up to 50 kg
Gevorgyan Andranik – 1st prize
Chivchyan Arman – 2nd prize
Parsamyan Varuzhan – 3rd prize
14-15 years old – up to 55 kg
Babayan Edik – 1st prize
Hovsepyan Ararat – 2nd prize
Petrosyan Eduard – 3rd prize
14-15 years old – up to 55 kg
Karapetyan Edik – 1st prize
Chivchyan Tsolak – 2nd prize
Antonyan Spartak – 3rd prize
16-17 years old – up to 70 kg
Ayvazyan Avetis – 1st prize
Minasyan Vache – 2nd prize
Ayvazyan Haykaz – 3rd prize
16-17 years old – up to 60 kg
Parsamyan Azat – 1st prize
Harutyunyan Harutyun – 2nd prize
Satgsyan Arsen – 3rd prize
18 years old – up to 70 kg
Gasibelyan Narek – 1st prize
Khachatryan Gevorg – 2nd prize
Hovsepyan Hovsep – 3rd prize