Limpopo Province National Heritage Day celebration and Tatami sponsorship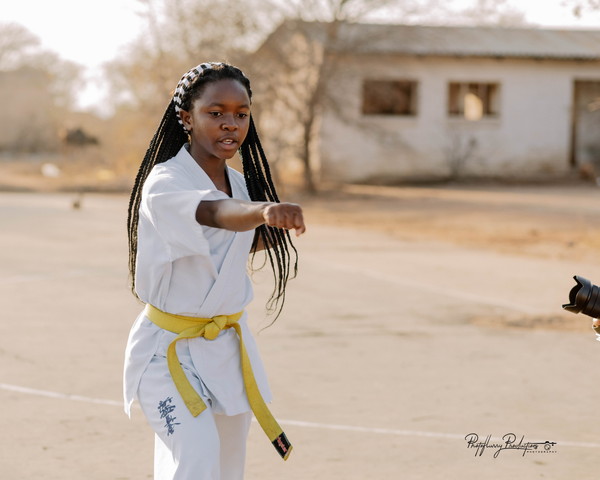 Limpopo Province National Heritage Day celebration and Tatami sponsorshipDate: September 24, 2020
Place: Phalaborwa, Limpopo Province, South Africa
Organizers/host: WKO branch Chief Sydeck Monyela and Sempai Frans Seabi
On 24 September 2020, Phalaborwa Shinkyokushinkai spent the day celebrating the National Heritage Day with training organized by WKO branch chief Sempai Sydeck and Sempai Frans Seabi. The Hectic On 3, a revolutionary kid's TV show on the national television SABC-3 was invited to cover the show which was broadcasted on the national TV on 24 September 2020. Due to COVI-19 restrictions to combat the pandemic, 20 students attended the training outdoors as we couldn't gather all the students to avoid the spread of coronavirus. One of the female student (Bongekile Langa, 13 years old) was selected to be the main character on the show as this event was also incorporating the Woman's month celebration which was in August. This was also to encourage our women to join karate and to debunk the stereotypes that karate is for men and to also encourage women to join karate in order to learn basic self-defence skills they might need to protect themselves when faced with evil people who commit violence against women and children in the country.
Heritage Day on 24 September recognizes and celebrates the cultural wealth of our nation. South Africans celebrate the day by remembering the cultural heritage of the many cultures that make up the population of South Africa. Various events are staged throughout the country to commemorate this day. The 2020 theme for Heritage Month was "Celebrating South Africa's living human treasures". The COVID-19 pandemic has exposed many realities in our country and society such as high rates of poverty, inequality, unemployment and gender-based violence (GBV). Hence the Heritage Month was also used to create awareness around GBV, and how we can fight it by inculcating positive societal values. The heritage day activities are let by The Department of Arts and Culture.
On 09 October 2020, Phalaborwa Shinkyokushinkai was invited by the Palabora Mining Company one of the biggest mining company in South Africa that produces copper and Magnetite, to received 100 tatami mats following a successful request for sponsorship made by Phalaborwa Shinkyokushinkai to the company. The tatami will assist the Phalaborwa branch in hosting tournaments without having to worrying about the costs of hiring tatami and also be used during trainings to perfects some techniques and protect from injuries when doing so.
Sempai Monyela extended his words of gratitude to the Palabora Copper Stakeholders (Tshidi Ngobeni: Transformation specialist; Nozipho Zitha: Transformation Superintendent; and Luka Malatjie: Community Liaison Officer) for honouring the request while acknowledging that the company also sponsored the 2018 Limpopo tournament hosted in Phalaborwa with 100 big trophies. And he hope that their doors will always be open to assist with community development through karate. He also expressed their gratitude to all participants who attended the event and parents who allowed the children to participate during this difficult time of COVID-19, filled with uncertainty.
Sensei Andronica Shonhiwa (nee Rakgantso)
Assistant to President Isaac Mashinini; WKO South Africa/Africa Region.
On Behalf of Phalaborwa Shinkyokushinkai (Limpopo Province) WKO Shinkyokushinkai